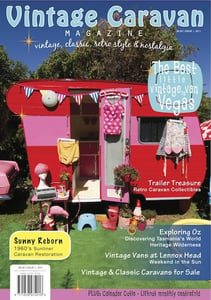 $

20.00
Released in April 2011.
Reprinted due to popular demand.
The very first issue of the very first vintage caravan magazine ever produced in the world!
The highly sought after issue 1 featuring the "Best Little Vintage Van in Vegas" on the cover and inside plus articles on a 1960's Sunliner restoration, a vintage shop in a caravan, travel features, retro collectibles, recipes, classifieds and more...
VERY LIMITED QUANTITIES OF THIS COLLECTOR'S ITEM LEFT!