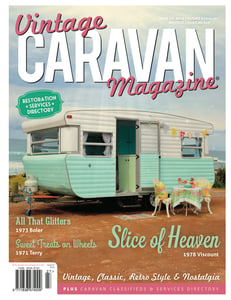 $

10.00
Nov/Dec 2015
Only a few copies of this issue left!
Featuring Karen Needham's 1978 Viscount "Blossom" on the cover and inside (AUS) plus features on Amanda Hoppe's 1973 1300 Boler (CAN), Pete Goodlet's 1970s Chesney (AUS), Jill Fay's 1971 Terry (USA), Jaime and Carl Holm's Tinker Tin Trailer Co. (USA), Christina Douglas' 1960s Viscount Ambassador (AUS), plus event review on the Sisters on the Fly Northwest gathering in Oregon, restoration tips, caravan classifieds and services directory, Road Trip! Events Guide, caravan centrefold and more!
Worldwide delivery available.
www.vintagecaravanmagazine.com